From Sete we crossed the Etang de Thau and entered the Canal du Midi!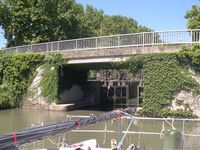 8th August left early and crossed the Etang de Thau (2 hours) before the wind got up and entered the Canal du Midi - pretty busy area with boats parked everywhere, Glenans sailing school, permanent liveaboards, all pretty squalid etc. Did not look very attractive and I was glad I had not crossed the previous evening as parking would have been difficult.... THEN IT ALL CHANGED!
Became pure "wind in the willows" very very beautiful indeed.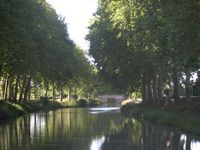 A lot of big 40 -45 ft hire boats driven by people 'sans permit' with no experience but with lots of fendering, rubber strips and speed limiters..... Purchased fuel from hire base at 20% surcharge straight out of pump - alternative was to hump Jerry jugs.... Got to Colombiers - a large village port de Plaisance with small supermarket, 2 restaurants - one on quay side - the Ecluiser and one in the village. Had an expensive meal and not particularly nice one in l'Eculiesier.
9th August left fairly early but felt pretty queasy! Spent morning 'driving' with one hand into locks and baffing into bucket held in other hand! L'Eculiser had got my stomach and dosh. By midday I could continue no longer and parked up in charming village of Le Sommaile. Spent rest of day in bed and loo!!!! I have eaten out all over the world and have a strong stomach but other than one time in Hong Kong I have never been so food poisoned!
10th August Better - left and got to St Martin - all still beautiful and absolutely charming!
11th August Arrived in Carcasson at mid-day - went shopping for food etc then carried on out of town. Because of lots of local 'unemployed' it did not feel a very secure place to park. carried on till dark.
A word of praise for the architect of the canal du midi.... He constructed this canal with remark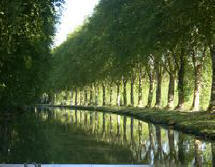 ably few locks in spite of a considerable rise in altitude. (You can make much better mileage than in the northern / eastern France canals where the locks are prolific)