ELOISE
My Prout 33!
The search, the purchase, the first voyage, into St Valery, The Canals to the Med, The Canal du Midi, Bordeaux and home.
For full details of Eloise - her recent 'makeover' and equipment visit 'ELOISE'
Why a Catamaran?
During my blue water sailing in Bambola, a Moody 36 monohull, I became increasingly aware that other people doing the same sort of voyaging in catamarans seemed to be having a more comfortable lifestyle. More space - room - not having to resort to lee cloths and putting everything away before setting sail.
Another reason is that I was a bit sailed out! Too many oceans, seas and islands. The challenge had gone a bit. Not that I know it all or that I actually trust the wet blue green stuff for a moment but the 'wonder if I can do it' had gone! I needed something a bit different and the thought of doing some ditch crawling and the ability to dry out seems appealing. My wife is not so well and found Bambola trying - climbing up and down from the cockpit to the saloon - holding on when we heeled over to the wind - and other reasons. I also decided that I would probably not visit far away places with strange sounding names again in Bambola and that was a shame as she is fully equipped and ready to circumnavigate again, but I am not - at the moment.
So a catamaran - discovered there were lots on the market - Catalacs, Prouts, Heavenly Twins, Aristocats and lots more. The internet makes locating, pricing and looking at boats for sale really easy. Had to go to the UK for business so I took a day off, hired a car and drove to Emsworth and the Multihull World marina. Excellent place with lots of Cats in the Water and ashore and really knowledgeable people. From their advice, the money I had available and my own feelings, I decided that probably a Prout 33 was what I should look for.
Because they are big and seaworthy enough to get me across oceans. The large cockpit makes a wonderful social area. The rig is broken down to pretty easily manageable sizes. The main reefs easily from the cockpit. Side decks are wide enough to easily get to the anchor and winch. The cockpit and saloon are on the same level giving easy access. The accommodation in the saloon is fine - good spacious galley - large chart table - 3 sleeping cabins are rather small as are the beds. A perennial problem with catamarans I discovered. The hulls are too narrow. The Prout designer have overcome this by making the forward part of the saloon into a very big double bed and the forward starboard cabin into an extension of this with stowage area. Looking at this I can see that any Prout 33 can be converted to this arrangement fairly simply by the removal of the dividing ply sheet and the insertion of a new bulkhead with a window between the saloon and new bed area. I will do this if the boat I find is not laid out in this way.
Concerns are - cost! Marina and Port fees will probably be 50% higher because she is a cat although her beam is only 2'6 wider than Bambola was! I suspect she will be tough to handle in confined conditions when its windy. twin engines would make it simple but most Prouts come with a central steerable leg. I will consider a bow thruster if it is too difficult. The steering position is not very comfortable - hard to curl up in a corner and keep watch on long passages as I could with Bambola - maybe a high chair. No stowage! Prouts do not appear to have a quarter of the stowage compartments/places of a similar size monohull. Helps keep weight down but - wait and see.
THE FRENCH CANAL ROUTES TO THE MEDITERRANEAN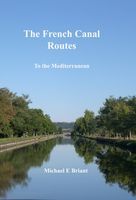 If you are thinking about using the French canals to passage between the UK and the Mediterranean then this booklet contains all the information you need'
It describes the Routes, the regulations the paperwork - How where and when to get the qualifications and license, the depths, air heights, locks and a whole lot more.
There are 'charts/maps' throughout, the distances, dimensions & main stopping places and is the only publication to list ALL the possible stopping places on the Rhone River!/
Download now from
or
THIS IS HOW IT HAPPEND - MY
BLOW BY BLOW DIARY
OF
February 6-9th Went by car to the UK to view some Prout 33 catamarans which I have identified as being right for my next boat - will fit in the French canals enabling me to motor her to and from the Mediterranean via the Canal to Midi to Bordeaux then round to my home port in La Rochelle. They appear to have good sea keeping qualities should I decide to take one across the pond and base her in the West Indies and spend the winters in a warmer climate than Europe.
I have given the two vessels I like best a through survey and feel I know the strengths and weaknesses of both. In the end it will come down to the price.
Feb 14th -March - Negotiate for the two Prout 33s that I prefer. The more expensive boat owners will not drop sufficiently for me to continue so I make an offer for ELOISE which the owners Ivor and Priscilla find acceptable. I am pleased - I know she will need new sails in the not too distant future and the 28 hp Yanmar is original so has a question mark over it. They are obviously experienced sailors who have used her a lot and maintained her properly for extended cruising. She will need some more TLC next year which I will enjoy doing - intend converting the fwd part of the saloon into a cabin with access from the starboard fwd cabin in order to make a larger more comfortable owners cabin. A calorfier would be nice too except I must wait and see how my wife takes to it -
The Multihull centre with Debbie and Mary have been efficient and helpful - worth a visit if you are looking for a catamaran -
The Multihull Centre - Millbrook, Plymouth, Devon. UK -
They build catamarans as well.
http://www.multihullcentre.co.uk/index_start.html
Really nice yard - full of catamarans and looking the way boat yards should look..... very nice people
March 13th 2005 Have signed the contract to buy an and transferred the funds - discovered I could only transfer £10,000 a day so it took a little longer than a cheque. Eloise is in Millbrook, Plymouth UK - the official bill of sale will be signed on the 15th. I have paid in full and am just waiting for the vendor to sign her over when he returns from holiday. I have had very good - friendly - efficient service from Debbie at the Multihull Centre in Millbrook Plymouth.
I need to get Eloise surveyed for the insurance company and am just waiting for a second quote.
She will be on the hard until I go there in early May - antifoul and splash her then head for Brighton and Sovereign Harbour Eastbourne to see friends and family then to St Valerie sur Somme to enter the French Canal system and head south slowly for the Antibes and other nearby places before returning to La Rochelle via the canal du midi - well that's the plan.....
I have a load of boxes containing my sailing bits and bobs and a package with an AB dinghy, oars, 5hp Mercury, fortress anchor and anchor-plait waiting to be shipped over by lorry.
March 18th 2005 Eloise is officially mine now. Heard nothing that day but a while later received from Debbie the SSR form to sign for her to send on and register Eloise in my name.
March 27th 2005 Have organised an insurance survey to be done during the first couple of weeks of April. Eloise is covered by Navigators and General via Yachtmaster Insurance whilst she is laid up ashore. I need to forward the survey to Yachtmaster before I splash her. Communications have slowed down because of the postal time delay in post from the UK reaching LR.
March/April..... Have been packing AB dinghy, Mercury 5 outboard, fortress anchor and warp into a large packet. There are also 10 boxes of 'stuff' to ship to Plymouth on a pallet, by lorry - wet weather gear, charts and pilot books, life jackets and safety harness, galley equipment, two boxes of tools - electrical buffer, drill, binoculars, hh vhf, boots etc etc. Had a lot of problem finding a lorry company to shift them from La Rochelle to Millbrook. Ended up with quotes from one French Co and one English Co. French slightly cheaper so will use them. Have to wait and see in late April if it all works out - cost around £300. As we will fly out on May 10th c/o cheap Ryan air to Newquay and then hire a car this is still a lot cheaper than using the car in from France to UK and back and then get back to UK...
April 25th All my boxes and dinghy, outboard, anchor etc for Eloise were collected by a French Haulier to go to Plymouth. this has all been organised by Peters and May in the UK. They can ship boats, boat bits and boxes throughout the world - if you want something transported for the boat - or the boat itself these are the people to talk to :-
who have been very friendly - efficient and the charge is less than taking a car by ferry! Even with Ryan air fares and hiring a car at the other end!!
May 14th Heading for Plymouth and Eloise........... Did a bit of work in London then drove the hired car to Millbrook near Plymouth
Needed an insurance survey and got this done quickly, efficiently and most reasonably by:-
John Merrett - I.Eng., AMRINA. Telephone/fax (01752)564252
Insurance is covered by again very competitively and expertly for UK/Canals/Med/Atlantic by
Yachmaster Insurance (01394)615755 mailto: enquires@yachtmasterinsurance.co.uk Good people to do business with.
May 23rd Did some antifouling - installed a battery charger, did some cleaning and tidying up - mainly in rain, fog and cold and finally Pip and Debbie lifted Eloise with the hydraulic trolley and placed her on the slip to float off at high tide and be motored round to a berth....
May 24th Moved aboard to wait for wind and rain to stop....
May 29th Set sail for Brighton to take CENVI exam to 'drive' in French Canals and rivers.
June 1st arrived Brighton via overnights in Dartmouth, Weymouth and Osborne Bay IOW. She sails quite well - the motion is a bit odd at first but after a couple of hundred miles you get used to it - Wide turning circle... Deciding when to reef is harder - when a keel starts to lift is possibly a little late - interesting learning curve. The little staysail works well and really improves performance. Motor is economical and got red diesel in Weymouth at reasonable price.. Only real problem is that the engine 'leg' jumps out of its locked position when going astern 'sometimes' I am going to try heavy bungee cord on the leaver see if that works.......
June 3rd Took and passed CEVNI test at Brighton Sea School - nice people and good organisation.
June 4th In sovereign harbour building site - oops Marina! to visit sister and wait for wind to come out of South and set fair for France..
June 6th Set sail for Dieppe early - started motor to cross shipping lane in lumpy sea.... Motor stopped and inspite of bleading, threats, cleaning and several hours of attention on passage - refused to start again.
Got permission from Dieppe Port control to enter under sail (normally forbidden) - well reefed down on main and Genny with 25-30 knots and low visibility. Eloise went well to windward when I got too far West of the entrance and once I had sailed in past the Ferry terminal the marina boat towed me to a berth FOC... lots of fun.
June 7th discovered non starting motor is biotic sludge in bottom of fuel tank. Pump all the fuel out into jugs and remove several handfulls of jelly sludge. Thoroughly clean tank, filter fuel several times and refill tank. Around 22.30 I go into the cockpit and smell diesel - find tank is leaking and spend next two hours pumping diesel back out into jugs again - the fun of cruising......
June 8th Have bottom of tank welded in several places, change all the filters, clean lift pump etc etc - get lots of kind help and advice from Tim & Lynn the master of a beautiful Rampart called Maracas Bay.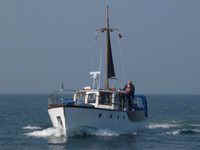 Tim is ex RNLI engineer and coxswain, pilot boat skipper, fisherman and knows small boats. He and Lynn are livaboards in Newport IOW.
June 10th Set sail for St Valery sur Somme,,,,,,,,,, Well motored - very light Easterly on the nose. Found the channel entry buoy easily but the winding channel from one side of the bay to the other required my full attention. Very well buoyed and beaconed right up to the Yacht Club, the tide into the bay was making 3-4 knots and needed a concentration to stay in the fairly narrow and twisting channel for the 90 odd minutes it required. Consult the pilot book for instructions on access times - not difficult but needs your full attention to time and the twists and turns. Never leave the buoyed channel.
June 12th Mast down at club crane for 30 Euro. Got help from Peter and Jackie in a very smart and tidy looking Westerly Discuss. Mast a bit too heavy to handle single handed - now stowed on deck...so was very greatful for their assistance.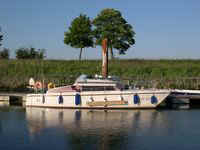 I must say all the employees of the club are friendly and helpful - Mariac, the young port manager, speaks perfect English and is charming. Sadly the club officials - Commodore and other 'flag' officers are pretty unfriendly and unwelcoming and prone to being slightly rude to visiting yachts people but their lack of good manners is made up for by their helpful and friendly employees. I think the club members prefer we do not use their bar or club facilities -
June 15th. Left Eloise with mast down ready to go into Canals and returned to London via home in La Rochelle - hope to be back in early July.........
as I left I noticed that the fuel tank was leaking again - not a lot but definitely leaking diesel - I am just going to pretend it is not as there is almost certainly not a welder in St Valery sur Somme - it is not the centre of the universe - but it is pretty with its steam trains and vast sand banks full of wildlife...
next stop the canals
The Scenic Route!
(breakdowns in Red!!!)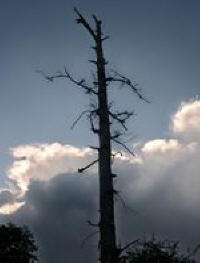 July 6th back on board. Fit Plastimo Electric Toilet to please 1st mate. Rain. Stock up with food from both excellent supermarkets. Rain
July 7th Rain fill 3 x 25ltr spare jugs of Diesel. (use club trolly) London bombings! Rain
July 8th. Rain Receive permission to move through 1st tidal lock into canal but no further as the rain has caused a tree to destroy a weir just past Abbville! Now on pontoon in Canal du Somme.
July 9th Rain
July 10th Rain
July 11th Received permission to move 8K to Abbville. Great! Join half a dozen other boats waiting for repairs to weir to be finished. Large supermarket with fuel next door to mooring. Told we may be able to proceed tomorrow!
Real Start of Trip
July 12th at 13.00 a lock keeper arrives and tells us we may proceed - get to Piquigny. - 27 nautical miles by GPS.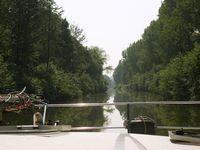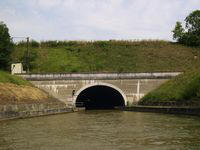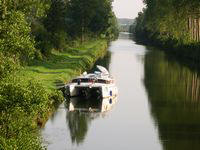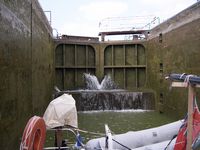 July 13th Piquigny to Mericourt - 25miles. - moored with stakes to the bank. OVERHEATED TWICE! WITH BLOCKED COOLING WATER FEED!
July 14th To Peronne - tightening fan belt!16 miles only as it is a public holiday and enter into THE CANAL DU NORD.
The Somme was a very quiet and domestic canal - verdant countryside, sometimes quite narrow and lined with trees. Charming and Friendly the canal company encourages pleasure craft and frequently the locks are open and ready for you before you arrive! The locks are manned mainly by students doing 'summer work' in the university break. - certainly a trip on the quiet side. (Quite strong cross currents before some of the locks.)
July 15th Canal du Nord is a major commercial highway for Penich - in 13 hours of motoring and 11 locks make Chauney. Plank was essential as several of the locks had shuttering rather than concrete and the fenders would have vanished into the gaps leaving the rubbing strake against the rusty metal, 1 long tunnel of a Kilometer and pretty narrow but well lit. (note the branch via HAM has been closed for years and will probably never reopen as it has silted up. At one stage there were 3 peniche in front of Eloise to go into a lock which only takes one at a time! I put in the long day to get out of the Canal du Nord and the Juggernaught Penich racing past any possible mooring night and day! Water flowing into locks pretty powerful and in one I just had to let go the line but a 4.80 + fenders catamaran in a 5 metre wide lock there is not far to go! Park up in Chauney knackered!
July 16th Unpark to go into Canal de l'Oise a l'Aisne and as I am turning around the engine stops. have enough way on to make the bank and moor up and open engine compartment. A short rubber hose connecting the plastic fuel feed line to lift pump has broken. - cut it off neatly put the shortened section back on - bleed the engine and nothing! Strip the lift pump which is pretty old, clean it up and reassemble it - bleed the system - nothing. look at the rubber hose and see it has broken again. Looks fine but is actually perished! A nice lady gives me a lift to a car shop where I buy new fuel hose, fit it bleed the engine and am on my way by 13.00! get to Anizy - 15 miles progress only....
July 17th make 27 miles progress and end up just north of Reims - locks are challenging as Eloise has a beam of 4.40mtrs + fenders and plank making around 4.60mtrs and the lock width of 5mtrs with cross currents just before the gates!
July 18th Total cock up going into lock with particularly strong cross current after rain! end up broadside to gates! 2nd attempt OK... ish. Fan belt slack again and water intake filter clogged. Parked in Reins port de Plaisance
July 19th Reins port de Plaisance - cost 11 Euros a night inclusive of electricity and water. Did lots of shopping etc. social visit from brother in law. Not easy place for fuel or gas. Good supermarkets and town shops. Departed 14.00
July 20th Locks difficult as depth of canal has been increased to hold 'fuller' barges but the sides of lock have not been raised! The top of the side is only a couple of inches from top of water when lock is full. Fenders float so it is very difficult to protect hull. some boats have strips of 2x1 on ropes suspended at water level. Seems to work well.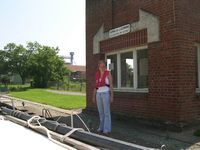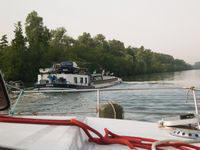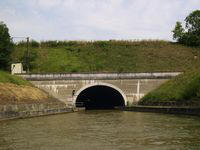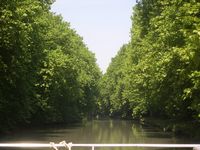 THE FRENCH CANAL ROUTES TO THE MEDITERRANEAN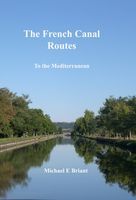 If you are thinking about using the French canals to passage between the UK and the Mediterranean then this booklet contains all the information you need'
It describes the Routes, the regulations the paperwork - How where and when to get the qualifications and license, the depths, air heights, locks and a whole lot more.
There are 'charts/maps' throughout, the distances, dimensions & main stopping places and is the only publication to list ALL the possible stopping places on the Rhone River!/
or
July 21st Travelled with nice older couple in steel 'Pedro' canal boat. Tightened fan belt again.
July 22nd Some very narrow canals. Got forced into bank by Peniche waiting to enter lock I was leaveing. He occupied all mid stream and went ahead the moment I left the lock. Result I went aground as he 'sucked' all the water out of the side of the canal - my stern swung around and we scraped the inflated dinghy hanging off the davits as fender down the side of the Peniche. A few hours later at another lock the same situation as a Peniche waiting to enter as I exited made me pull further over to a space on the right and I went hard aground with both hulls!! In neither case was there any damage to Eloise. A bit of damage to my good humor! Throttle cable (morse cable) broke - Throttle bodged with string from throttle leaver round little block and into cockpit - works fine!
July 23rd Overheating.... Install new impeller - I think the problems of the impeller running dry when the water intake is blocked by debris damages the rubber - Canals start to get wider. Great!
July 24th Water intake blocked again - clear it. String throttle works just fine!
July 25th Arrive Chaudrey midday. Fuel up and food up in local supermarket. Chaudrey Port de Plaisance with electricity and water for 7 euro a night! Fuel has to be jerry jugged. Not ideal but supermarket excellent. Order new morse cable from Ted Johnnson in France for overnight delivery by French Parcel Post service. Buy high stool to sit on whilst driving!
July 26th Morse cable arrives 09.00 and spend happy morning fitting it. Fill up with water but have to wait for 13.30 lock to set out.
July 27th Go through very long 4 kilometer tunnel. Diesel return pipe falls off - fix with string. It too is perished but looks fine externally!
July 28th Did long 11 hour day 08.00 to 19.00 and make good progress towards the Saone
July 29th Break out into big wide Soane River and huge easy locks at at 14.15.
July 30th Arrive Chalon Sur Soane - have expensive and delicious dinner but older lady at next table almost dies! 362 miles down the road so far.
July 31st Heading down stream - Fan belt finally gives up ghost. Park in disused lock and put on new belt. Get to Belleville sur Saone 408 miles on GPS best day for distance achieved so far - 46 miles! (I should be sailing!!)
August 2nd Departed 08.00 and purchased Fuel from the Riverside Barge past last bridge. Big Locks really easy with floating bollards.
August 1st LYON! parked under willows near city centre.
August 2nd Departed 08.00 and purchased Fuel from the Riverside Barge past last bridge. Big Locks really easy with floating bollards.
August 3rd La Roche de Glenn. Alongside village pontoon for night with 4 other boats
August 4th La Roche de Glenn Mistral blowing and gusting 30 Knots - decide not to move - engine not powerful enough but see others pass....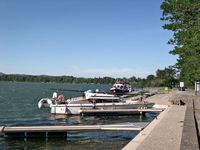 August 5th Big problems finding a parking place at end of day. tied up alongside very unwelcoming little stinkpot occupying all of village pontoon..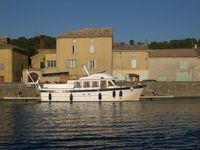 horrid old French lady, husband and daughter in this Trader were most unwelcoming!!!
August 6th made it out of Rhone into Petit Rhone - via maritime lock into Canal de Rhone a Sete. Stopped at Galacian.
note: would have been about 1 day more to Port St Louis.
August 7th waited from mid-day to 16.30 for bridge to open then into Etang du Thau and into SETE. Parked outside external bridge on Etang de Thau Junction. Smashing little local resturant with all items priced at 3 or 4 Euro. Local folks come from miles around! Best meal of trip and for the least money! If we were going into Med then would have put the mast up here!
The next day we crossed the Etang de Thau and entered the Canal du Midi!
8th August left early and crossed the Etang de Thau (2 hours) before the wind got up and entered the Canal du Midi - pretty busy area with boats parked everywhere, Glenans sailing school, permanent liveaboards, all pretty squalid etc. Did not look very attractive and I was glad I had not crossed the previous day as parking would have been difficult.... THEN IT ALL CHANGED!
Became pure "wind in the willows" very very beautiful indeed.
A lot of big 40 -45 ft hire boats driven by people 'sans permit' with no experience but with lots of fendering, rubber strips and speed limiters..... Purchased fuel from hire base at 20% surcharge straight out of pump - alternative was to hump Jerry jugs.... Got to Colombiers - a large village port de Plaisance with small supermarket, 2 restaurants - one on quay side - the Ecluiser and one in the village. Had an expensive meal and not particulaly nice one in l'Eculiesier.
9th August left fairly early but felt pretty queasy! Spent morning 'driving' with one hand into locks and baffing into bucket held in other hand! L'Eculiser had got my stomach and dosh. By midday I could continue no longer and parked up in charming village of Le Sommaile. Spent rest of day in bed and loo!!!! I have eaten out all over the world and have a strong stomach but other than one time in Hong Kong I have never been so food poisoned!
10th August Better - left and got to St Martin - all still beautiful and absolutely charming!
11th August Arrived in Carcasson at mid-day - went shopping for food etc then carried on out of town. Because of lots of local 'unemployed' it did not feel a very secure place to park. carried on till dark.
A word of praise for the architect of the canal du midi.... He constructed this canal with remarkably few locks in spite of a considerable rise in altitude. (You can make much better mileage than in the northern / eastern France canals where the locks are prolific)
12th August stopped at Castelnaudary lock for night - all so pretty.
13th August Castanet -Tolosan. .... reached summit and started going downhill. Locks of course much easier to cope with but there are miles of beautiful reaches following the contours of the land with no locks at all - brilliant construction and design and always beautiful! The Canal du Midi locks are oval rather than round (to permit faster filling!) and makes parking a bit more of a challenge. There are lots of very clever 'flights' of locks' which are difficult to single hand and need the assistance of someone on shore to put the lines over bollards. Unlike the other canals these locks start at O9.00 - close 12.30 to 13.30 for lunch and finally at 19.00.
14th August Passed through Toulouse and past the Airbus factory and a yard which maintains 'live aboard' Peniches. A very ancient and interesting town. Odd to be passing through the suburbs in a boat. Grissoles for the nights mooring.
15th August Valance d'Agen. Towns little municipal FOC port de Plaisance. Town itself charming and ancient with excellent little supermarket. worth a visit!
16th August Through town of Agen and its dramatic viaduct of the canal over the river and now in the Canal Lateral de la Garonne. Parked by the 14th century farm museum of le Ferm deFollett. Bit shallow but did not have to use stakes... A lot of the locks are now automatic - later they require the lever to be pressed twice - the second time when the lock has emptied which means you are way below the height of the leaver! when you press/push the lever the first time watch the gates close behind you and the 4 shutters raise on the gate in front. When all 4 have risen and your boat is starting to go down press the leaver for the 2nd time and it will 'remember' and the gates will open when the water level has dropped! (not a lot of people know that!)
17th August Castests. The end of the Canal de la Garonne. A sort of Port de Plaisance for 3 euro a night in front of the last two locks. these only operate at local HW of la Garonne and you can arrange with the lock keeper to let you out (or in) half an hour before HW. Need to move with other boats as there is only one lockage each way at each HW.
18th August 07.30 into the first of the two exit locks with 2 other boats. Into the river about half an hour before local HW. River full of debris and big with sand banks and sticky up bits. Needs full attention. If you flush the loo the water comes in very **** mud coloured and you may think there is a problem. When the ebb starts the river runs at 4 to 5 knots in the middle. Got to Bordeaux at midday and parked up on excellent floating pontoon outside 'port of Bordeaux' lock. This opens at local HW so had to wait till 18.30 to lock into the basin and go to inner basin. You can use the crane here DIY for 32 Euro and there are all the chandlery, sail lofts etc you need around the basin no 2. Parking is on a sliding scale but for a month for my 10metre Prout 33 charged at 150% it is 90Euro a month - lots of liveaboards and although not that attractive with ww2 German submarine pens on one side and stern/bows to mooring system I think it is a good - fairly safe place to leave a boat for a while.... I hope it is!
ELOISE is now in the basin waiting for deliver of new furling gear for the headsails and for La Rochelle to become cheaper in October when I will move her down the river and into the Vieux Port my home town.
summery of Canal du Midi:
It took 10 days to do the trip from Sete to Bordeaux. Half a day of which was spent being sick as a parrot! Cannot truly imagine it is possible to do it much faster! It appears to me to be the most beautiful canal/river passage in France. This is reflected by the intensity of hire boat running up and down it. They do spoil it a bit making some parking places look like a caravan site but the folks in these canal self drive hire boats have paid a lot for the privilege - 2 - 3 thousand euro a week!!! They are friendly and mainly try to drive their boats sensibly but have mainly had no training whatsoever!!
Sept 30 Back to Bordeaux - Put up mast with little crane for 32 euros. Paid mooring bill - probably the cheapest parking in all of Atlantic France - and moved, having previously booked the lock exit, at high tide out of the basin and parked on the waiting Pontoon for the evening.
Oct 1st Departed 0600 - one hour before local HW Bordeaux and pushed 3k of flood tide down stream in the dark. By daylight the tide changed and the GPS showed us making 8K over the ground. River a dirty muddy brown - fast flowing - I used new French charts which were worth the expense - Around 14.00 the local tide turned and we were again down to 1 or 2 K over the ground on a boat speed of 5K. 4 hours later it flooded again and we got into Royan at 19.00. The prevailing Northerly winds got to 15k in the PM and raised a chop against the ebb tide and river. 50 nautical miles.
Oct 2nd Left Royan at 09.00 and followed the channel out between the sand banks - mid tide - max ebb - really quite large chop even centre channel - Stood Eloise up on end a couple of times and quite large lumps of water over the coach roof into cockpit - not a place to be in a wind over tide gale! Cleared the Channel after a couple of hours and motor sailed into 10k north easterly to La Rochelle - arrived in Vieux Port on visitors pontoon at 19.00 - 52 nautical miles - once you clear the buoyed passage out of the Gironde the tidal effect up the coast is fairly neutral and the trip in beautiful clean Atlantic waters with small waves not horrid chop!
THE FRENCH CANAL ROUTES TO THE MEDITERRANEAN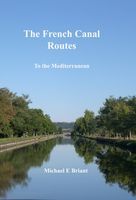 If you are thinking about using the French canals to passage between the UK and the Mediterranean then this booklet contains all the information you need'
It describes the Routes, the regulations the paperwork - How where and when to get the qualifications and license, the depths, air heights, locks and a whole lot more.
There are 'charts/maps' throughout, the distances, dimensions & main stopping places and is the only publication to list ALL the possible stopping places on the Rhone River!/
I am pleased to say this web site is

who have been kind, helpful and understanding. I really recommend them