PROUT ORIGINAL CATALOGUES***new

'Eloise' parked in a canal in northern France on her way down to the Med.
More info on that trip under
If you are thinking of taking your Prout from the UK to the Med then you can find the options at:-
If you want to know more about the French Canals then :-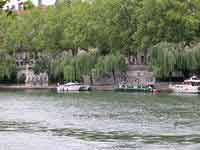 Welcome
to the PROUT OWNERS ASSOCIATION which I hope you will join and participate in?
The objective of this site is to enable Prout Catamaran owners to keep in touch, exchange tips and information and find out what works and does not. All intended to make sailing more fun and not to be too serious. Exchange help and information. Costs nothing to join and only take a couple of minutes.
The MEMBERSHIP LIST is just that. If you want to contact an owner with a similar Prout or are interested in their opinion before buying one yourself or intend cruising in their area and would like to say hello then this is the way to get in touch. Why not join and be on the list?
JOIN NOW is a little form to fill in and send to me so that you can be included in the membership list. Fill in as many or few of the details you want - all are welcome..
FORUM Please visit the forum to exchange 'Prout' or sailing information. If you want to sell your boat or nautical items there is also a section for that... Please note this is a brand new forum and if you used the previous one you will have to 'join' again... The old forum has been dispatched to the sin bin permanently.
PROUT REVIEW
There is an excellent new site with lots of Prout information who are doing a series of Prout reviews
Review of the Prout 39 Escale: https://www.catamaransite.com/reference/prout-39-escale/
courtesy of
Martin Smythe
Original Prout Quasar Brochures
www.anwbwatersport.nl/boten-archief/52552/Prout_Quasar_50_003.pdf
Courtesy of Chris Hutchins
FRENCH CANALS are pages of the experiences of owners taking their Prouts north and south by this bridge between the UK and the Mediterranean.
If, like me, you have suffered from headlining 'droop', then HEADLINING
How to transit the FRENCH CANALS
GETTING GOLDEN HAZE TO FRANCE IN A PANDEMIC
PANAMA CANAL TRANSIT
all at
https://www.youtube.com/channel/UCCHwNBRMwKc-aYYdKzYON4Q