Ronda
is where you should go, if you ever go to Spain on a honeymoon or if you ever bolt with anyone. The entire town and as far as you can see in any direction, is romantic background… If a honeymoon or an elopement is not a success in Ronda, it would be as well to start for Paris and commence making your own friends....... Ernest Hemingway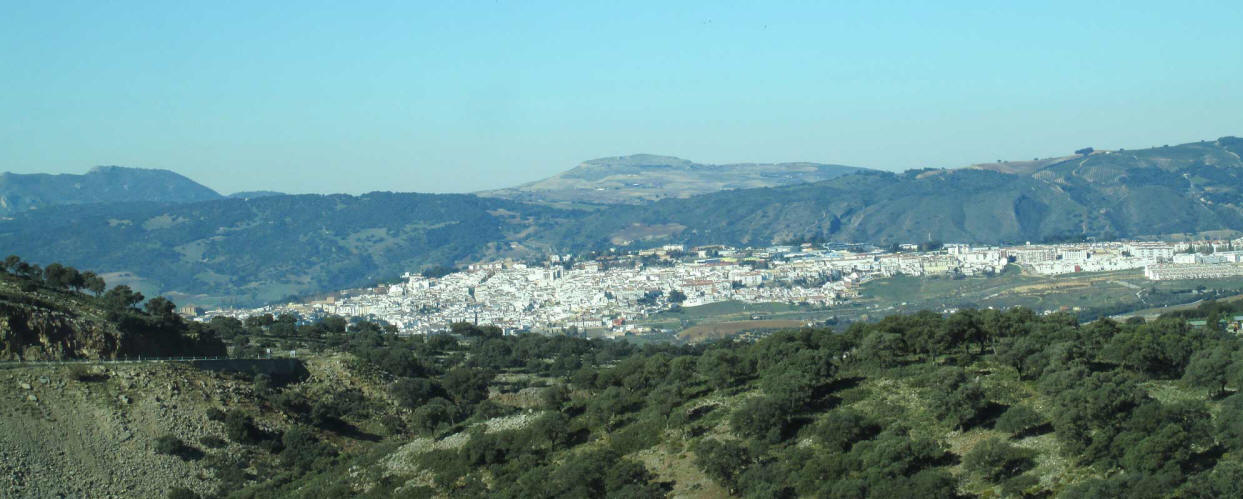 Ronda is situated in a very mountainous area about 750 m above mean sea level. The Guadalevín River runs through the city, dividing it in two and carving out the steep, 100 plus meters deep El Tajo canyon upon which the city perches. The Spanish Fir (Abies pinsapo) is endemic to the mountains surrounding Ronda.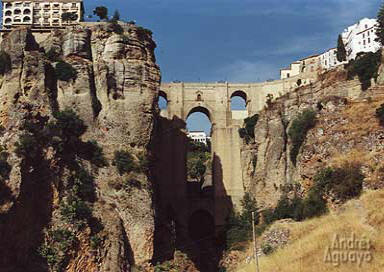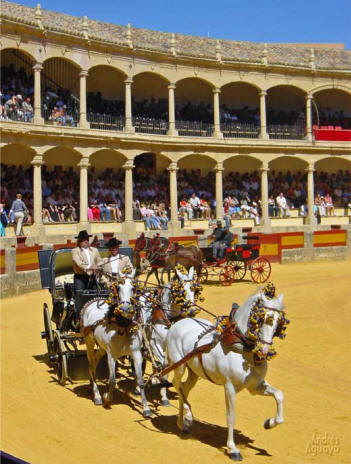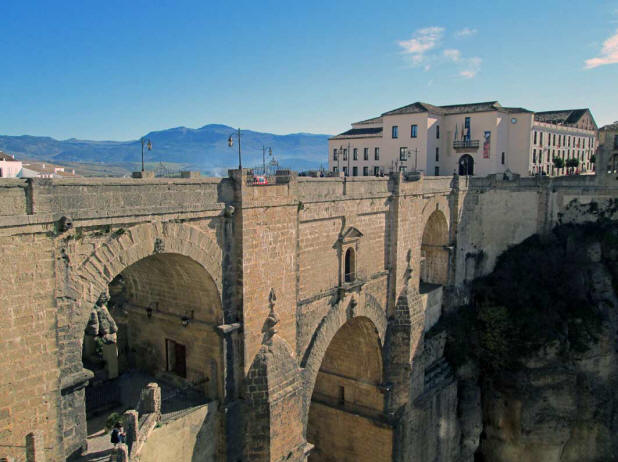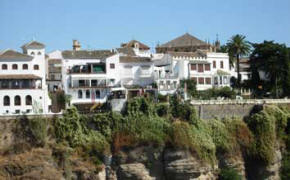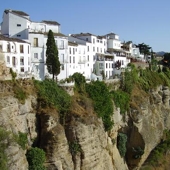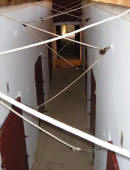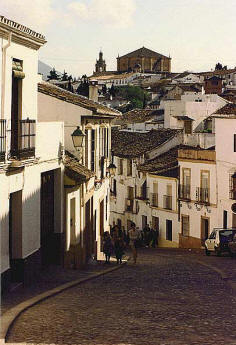 American artists Ernest Hemingway and Orson Welles spent many summers in Ronda as part-time residents of Ronda's old town quarter called La Ciudad. Both wrote about Ronda's beauty and famous bull-fighting traditions. Their collective accounts have contributed to Ronda's popularity over time.
In the first decades of the 20th century the famous German poet Rainer Maria Rilke spent extended periods in Ronda. There he kept a permanent room at the Hotel Reina Victoria (built in 1906) where his room remains to this day as he left it, a mini-museum of Rilkeana. According to the hotel's publicity, Rilke wrote (though probably not in Spanish) "He buscado por todas partes la ciudad soñada, y al fin la he encontrado en Ronda" and "No hay nada más inesperado en España que esta ciudad salvaje y montañera" ("I have sought everywhere the city of my dreams, and I have finally found it in Ronda" and "There is nothing that is more startling in Spain than this wild and mountainous city.")
Hemingway's novel For Whom the Bell Tolls describes the execution of Nationalist sympathizers early in the Spanish Civil War. The Republicans murder the Nationalists by throwing them from cliffs in an Andalusian village, and Hemingway allegedly based the account on killings that took place in Ronda at the cliffs of El Tajo.
Orson Welles said he was inspired by his frequent trips to Spain and Ronda (e.g. his unfinished film about Don Quixote). After he died in 1985, his ashes were buried in a well located on the rural property of his friend, the retired bullfighter Antonio Ordoñez.
English writer George Eliot's book Daniel Deronda ("Daniel of Ronda") tells the story of a Spanish Jew brought up as an Englishman. There has been some speculation that Eliot's ancestors may have lived in Ronda prior to the expulsion of the Jews from Spain in 1492.
In the fashion world, Italian designer Giorgio Armani specially designed the bullfighting costume called 'Goyesco' for famed bullfighter Cayetano Rivera Ordóñez on the occasion of the 'Corrida Goyesca' that took place on September 6, 2009, in Ronda. Cayetano's suit of lights was in the Goyaesque style, comprising a jacket, trousers and cloak in techno-satin. The three pieces are embroidered with sequins, small glitter stones and thread, all matching the colour of the background fabric.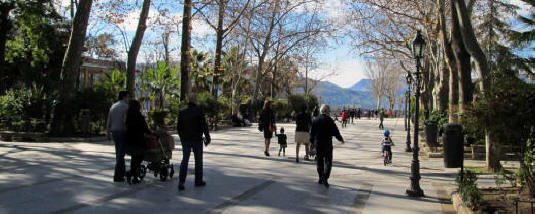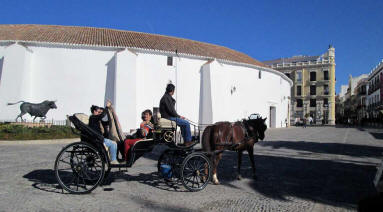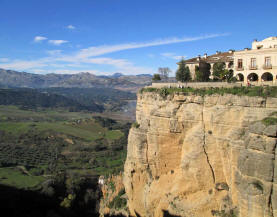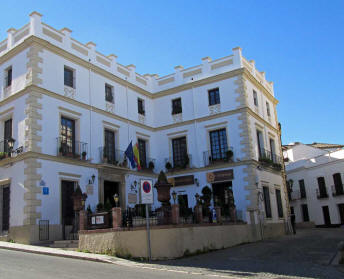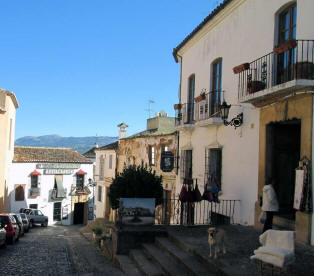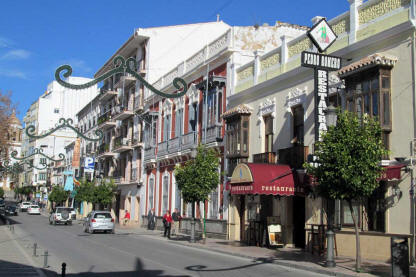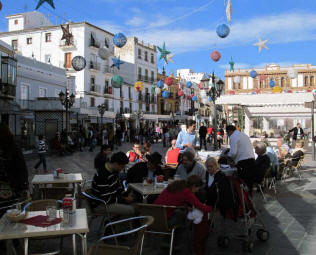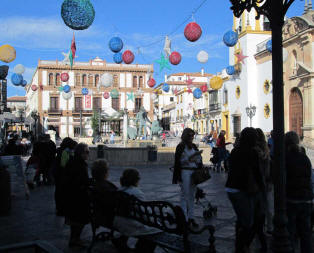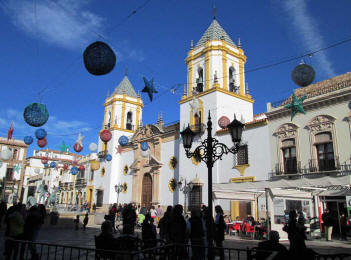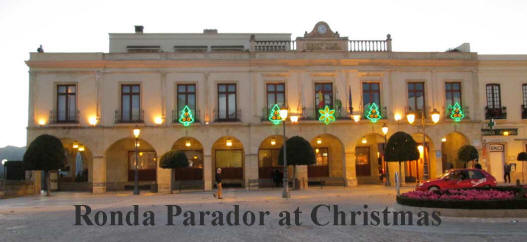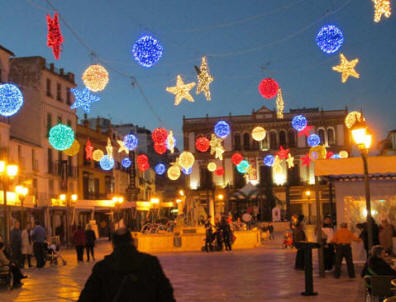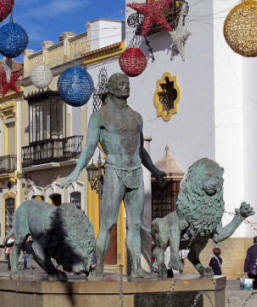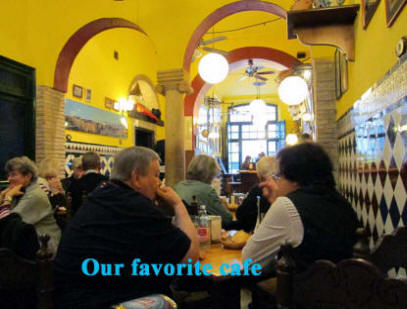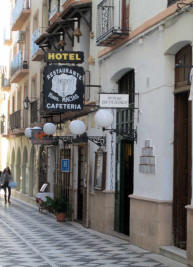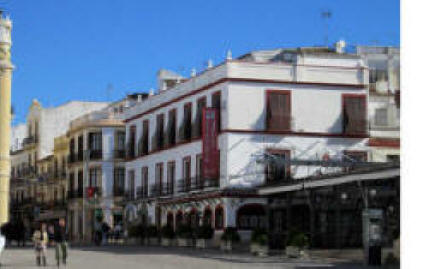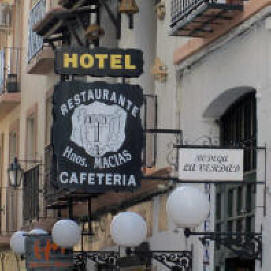 A brief h
istory of Ronda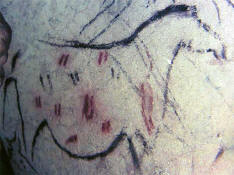 Ronda is one of the oldest cities in Spain. Its origins date back to the Neolithic, according to archaeological discoveries made in the old town. However, the presence of man in these parts is much earlier. From it are proof a series of deposits in caves, among which the Cave of the Pool, for being one of the finest examples of Andalusian Palaeolithic cave art .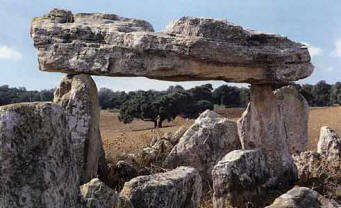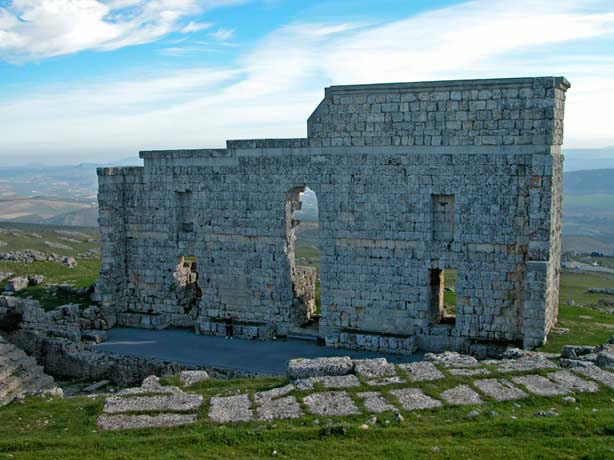 During Late Prehistory is attending a proliferation of settlements across the territory, with respect to the remains that have survived to this day, will be represented by one of its most important cultural events and monuments, such as the megalithic necropolis: Dolmen Poplar, Drunk Encino's, among others.
It will be at this time, then, when it also consolidated the two most important towns of the region, Acinipo and Ronda, although their respective periods of peak den but not after, the first Roman and second in the medieval.
From the Roman occupation of the Peninsula are many vestiges in our area, among which are those found in the city of Ronda. But, undoubtedly, is the archaeological site of the Roman city of Acinipo enjoying the most important, given the state's conservation and some of the most iconic elements of a classical city, as is theatre.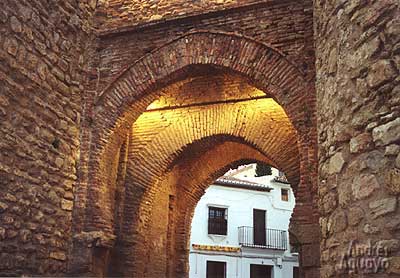 Acinipo disappeared after the convulsive period that saw the fall of the Roman Empire, the focus will be directed to Ronda, which, although a very small nucleus during the early Middle Ages, is the protagonist since all historical avatars gathered in this territory.
Of these, noted for its significance and the cultural legacy he has left us and is still visible in many of its manifestations (urbanism, food, traditions, farming systems, etc.), was the Islamic period.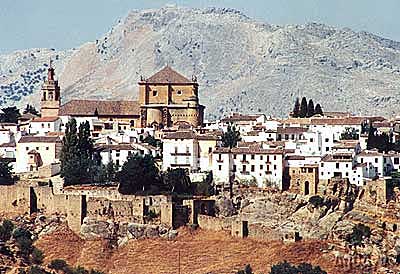 It is at this point that Ronda is configured and consolidated as city, becoming the capital of one of the Kuras (Provinces) in which al-Andalus was divided (the Takurunna) and even become independent kingdom (called Taifa kingdoms) after the dismantling of the Caliphate of Córdoba.
But the most significant role, and which is better known, will come with the Nasrid kingdom of Granada, as its proximity to the territories conquered by the Spaniards he will eregirse, both the city and the region, in border enclave Of particular importance.
With the conquest of the city by the Catholic Monarchs (1485) will produce profound economic and cultural factors that can still be seen in the physiognomy of the urban structure: opening of previously unavailable spaces, extensions of streets, etc.
But will the eighteenth century to mark, in this modern age, the final guidelines will round the role in the context of Andalusia.
It is at this time when building the most significant monuments and emblematic of the aristocracy of the time and the current round: the New Bridge and the Bullring.
Thereafter, and throughout the nineteenth century, forges the romantic image of the city and its mountainous, in which the world of bullfighting banditry and cause a deep impression on many distinguished travellers.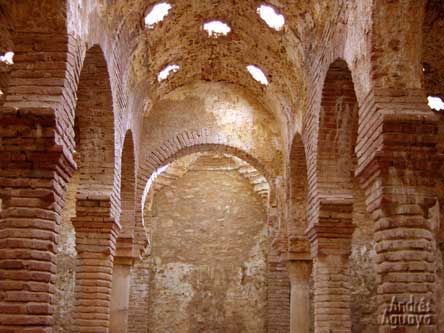 Much of the above history is taken from the Ronda Tourism Website and is their copyright.
Ronda is where I now live and is a beautiful town up in the mountains and about an hours drive from the sea. Wonderful place to be in.

Vejer de la Frontera is a white hill town near the entrance to the Straights of Gibraltar. Probably the most unspoilt of all the hill towns - white villages in Southern Spain

Boat Import tells you how to handle the importation of your boat legally into Spain and how to avoid paying the 12% matriculation tax.

Car Import tells you how to change the plates to Spanish registration, and if its a near new car how to avoid the 12% matriculation tax -

How to Register gives full details of how to 'clock into' the Spanish system if you are going to become a resident

Northern Spain is just that - a wonderful cruising area for yachties and far removed in every way from the 'Costa's'

Banking in Spain give some helpful info on what can be expensive and complicated. With the current 'crises' it's quite a 'cash' society so you need easy and cheap transfers.
I have just been to pay a three thousand Euro fine, to Malaga Cultural department ,because, the building works carried out for me by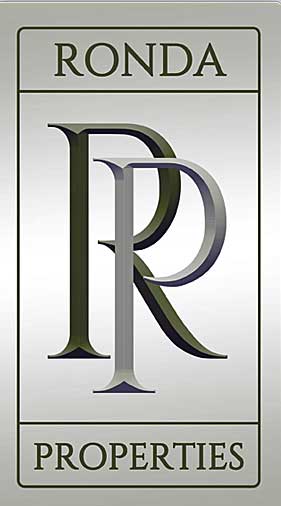 I
RP- Ronda Properties AKA Serrania Property Services
and their builder Augustine were totally illegal!.
After they finished the terrace it leaked!!!!!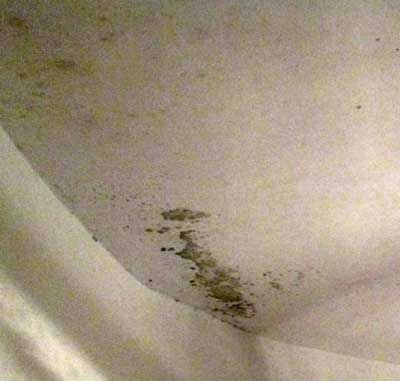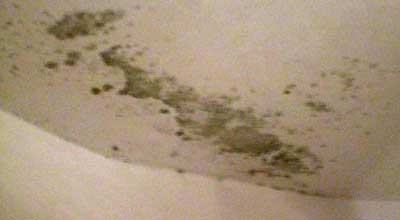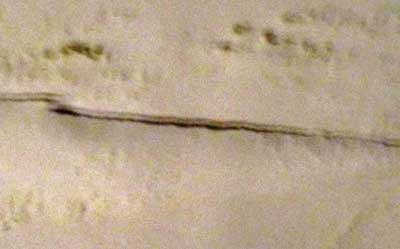 They had used the cheapest possible waterproof membrane and because it was laid on top of a maze of electrical wires they perforated the membrane.
I have now had to pay to have a new legal staircase put in, the terrace totally rewired and retiled.
if you want to know more about this horror story then read:
I have just been to the bank to pay a three thousand Euro fine to Malaga Cultural department because, the building works carried out for me by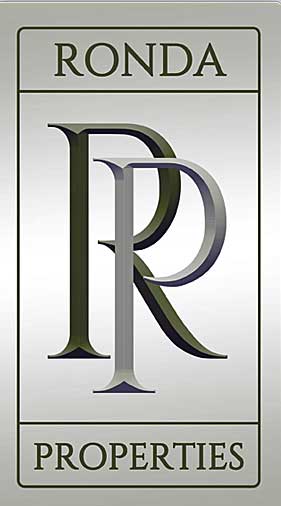 RR Ronda Properties - Serrania Property Services
were totally illegal!.

RONDA PROPERTIES - La Serranía Services
Inmobiliaria-Real Estate
Calle San Jose,1
29400 Ronda, Málaga

ROLLED IN RONDA
We live in the old town and wanted more outside space and decided that a roof top terrace on top of our lovely old house would be perfect. A local Spanish friend introduced us to a French speaking architect who was helpful as three years ago we did not speak much Spanish, but previously we had lived in France.
It took over twelve months to get planning permission from both the Ronda Town Architect and the Malaga Cultural department Architect, but eventually the permission came through but sadly our Ronda architect became so busy with a major Russian building project he asked us to transfer to a technical architect to oversee the project.
We had one unsatisfactory builders quote and approached an English speaking Estate Agents here in Ronda partner called RR - Ronda Properties - Serrania Property Services . 'This is what we do' they told us. We have an excellent builder on our books that does all our work and we will bring him round tomorrow. They arrived together and I presented them with my 4 centimetre thick planning permission book and building licence.
It was impressive that they arrived again the next day with, roofers, tilers, staircase constructors, electricians and plumbers. The only problem was, that the staircase man said the planning of the interior access was not practical, and he and the builder suggested that an outside staircase would solve the problem.
'But is that in line with the planning permission' I asked.
'Yes of course it is'
Then RR Ronda Properties - Serrania Property Services, informed me he had a meeting planned that afternoon with our technical architect and would 'run it by' him to make sure, but I should not worry as they did dozens of these roof terraces and there would be no problem... A phrase I came to loath ' No Problem'. No Problem
The builder produced a quote and said if we paid cash the IVA would be deducted. (At this time we did not know that when you come to sell your home in Spain the 'profit tax' of 50% can have all home improvements deducted from it and save much more than the IVA.) The works could start the following Monday and would take three weeks. Payment was 50% up front and 50% on completion.
Monday dawned and the scaffolding came in and the roof tiles started to come off. I was surprised when the builder asked me to go with him to the town hall to organise permission for a 'skip' and did not want to sign or indeed pay for it himself.
I and not a great believer in health and safety but the actives of the workers balancing on a scaffold tower held together mainly with string worried me. I checked with my Spanish Lawyer about who was responsible if a worker had an accident whilst working in my house.
You are totally responsible for any injury to a worker in your house.
But provided the registered/legal builder is properly insured then they are responsible for their employees.
I called my the RR Ronda Properties - Serrania Property Services to ask if the builders were properly registered and legal and they said no but no problem as they, the RR Ronda Properties - Serannia Property Servicess had taken on the legal role of 'constructors' and were in control of the project. The final part of the roof tiling came off leaving the house open to the elements and the workers walked across wobbling scaffold boards clutching tools and my old roofing tiles.
Then the technical architect came by and started shouting that the works were totally illegal and it must all stop. With no roof on the house and the old roof joists being demolished, I stared at him with disbelief.
But RP - Ronda Properties - Serrania Property Services told me he was confirming with you that the revised project was OK with you.
'Nonsense' he said 'I am recusing myself from all this and will inform the town hall that that I am no longer associated with the project'.
I looked at the sky and just hoped that it would not rain!
The work continued and the RP Ronda Properties - Serrania Property Services, and the builder, assured me there was 'No Problem' and that the architect was over reacting. 'This happens all the time'
More works with cement being poured, then a few days later a couple of representative arrived from the town hall and demanded to see the works. We were horrified as there was not a 'hard hat' - work boots - safety harness or indeed a secured scaffold plank to be seen. The site was an accident waiting to happen.
More and more cement was poured and roof tiles laid, when a letter arrived from the town hall telling me that the works do not conform to the planning permission and must stop.
I pass this onto the RR Ronda Properties - Serrania Property Services and the builder who tell me 'its no problem' the works will be completed tomorrow and will I please arrange payment.
When I stopped laughing, I told them that the final 50% would only be paid when the Town Hall signed off the works as required in the building licence. The RR Ronda Properties - Serrania Property Services and the builder said we will finish the works as a sign of good faith and if you pay us now we will undertake the paperwork to sort the problem free of charge.
A week later I received a letter from Malaga Cultural Department stating that I was to be fined for illegal building works and there would be a further fine if the existing works were not re-instated to the original condition.
'No problem' the RP Ronda Properties - Serrania Property Services said - 'happens all the time - just a technicality. Make the final payment to us and we will sort all this out. No Problem'!
It was hard to know whether to laugh more or burst into tears. I decided to take the letter from 'Malaga' seriously and employed an excellent new architect to apply for planning permission on the existing situation. That was refused. He then arrange the re-instatement of the works which required further planning permission and negotiated planning permission to re-instate much of the roof. Permission was granted a few days before the deadline for the 2nd fine. A bona fide, legal registered construction company were employed to remove the staircase and replace the demolished roof as required by Malaga Cultural Department.
Tthe good news was that 'Malaga Cultural Department' only imposed a fine of Three Thousand Euros, yes 3000€, for the illegal works. I asked RP - Ronda Properties - Serrania Property Services, who were the legal constructor and the builder to pay this fine, but they just walked away.
The reinstatement of the roof cost me ten thousand euros 10,000€ and I suggested that RR Ronda Properties - Serrania Property Services pay for this work but they declined. 'This is not our problem'!
I applied for planning permission for the terrace again and nine months later it came through, as well as the licence for building works from Ronda Town hall.
These works which are legal and different from the 'illegal bodge' which the RR Ronda Properties - Serrania Property Services constructed.
There is a moral in this somewhere but I cannot find it. I tried to do everything legally. I got the required planning permissions, building licences but made the basic error of believing an English speaking RP Ronda Properties - Serrania Property Services when he said that it was 'No Problem' - We will take care of it all for you!.
There is no sign of RR Ronda Properties - Serrania Property Services paying the fine for their illegal works or for the cost over run, which they caused by organising illegal building works.
Rather sad - never trust!
Ronda April 2016
We now have a tiny little bit of 'legal terrace' with no access to it!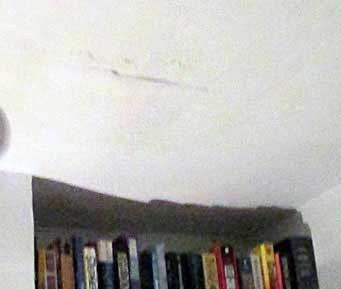 'No problem, this is perfectly legal, we do this all the time' .
'No Problem! We often do works that do not get planning permission until after it is all finished' -
'This sort of job does not need planning permission'
'Don't worry we will take care of it'!!!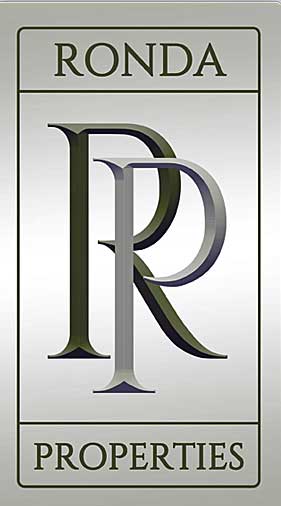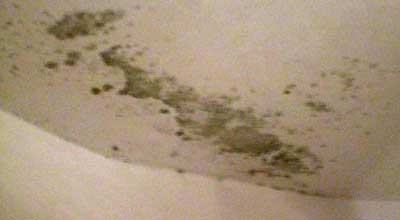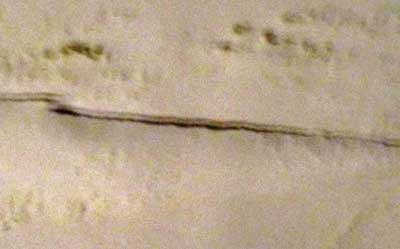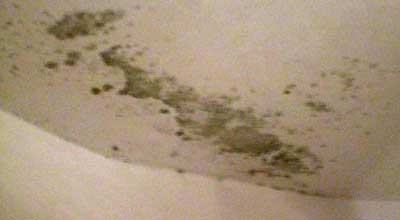 The scaffold access 3 stories up to roof - not a guard rail in site - held together with old string!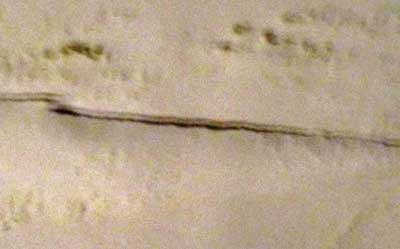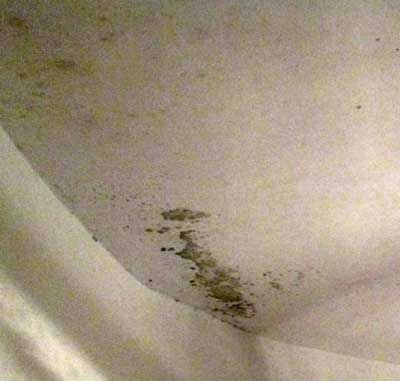 I highly recommend

builders, who recovered the terrace disaster and installed the inside staircase, with all the works done to the highest standards at very, very reasonable prices.
They cover the entire Andalucía area and Carlos speaks perfect English & German. Email:- jcsalas@salasduran.com
BANKING
You will need to open a bank account. Barclays Spain all have at least one person who speaks English.
Transferring money from the UK to your Spanish bank account or to pay for property etc can be a minefield and unnecessarily expensive. I expect there are other good ones, but over the last 15 years or so, I have found HIFIX to be inexpensive, easy to use, very fast with payments and cheaper than anybody else.
The big difference with HiFix is that they guarantee there will be no charges at the receiving end. With bank transfers and indeed companies like MoneyCorp, the bank that receives the money frequently makes a substantial charge for doing this. Worse still if you pay a bill to a lawyer or individual or even your own account in your new country, you can end up with a charge at the receiving bank - so will still owe the recipient money.
Follow link to www.hifxonline.co.uk and when you register quote code XHH359 and my name Michael Briant. You will receive a £25 M&S voucher to spend online or in store as a thank you for using HIFX for your international transfers. .(They will also send me a £25 M&S) Thank you.
There are no charges for transfers of over £3000 - below that its £9 per transfer. More importantly the exchange rate is displayed as per the UK money market so you can choose to buy your Euros as you see the rate rise or fall. They have very efficient staff to help you at first then afterwards you can do it all on line quickly and easily. There are no charges at the Spanish end of the operation unlike normal 'swift' transfers and the money normally arrives within 2-3 days.
It works like this:
You go to HIFX and choose either to send a fixed amount of Euro to Spain or the Euros that a fixed amount of Pounds will buy.
You do the deal with HIFX at the moment you see the best rate of exchange displayed and HIFX issues a 'note' telling you how much you now owe them.
You go to your UK bank account and make a 'normal' transfer to HIFX for no cost and that's it.... Simple huh?
HIFX tell you by email or text that they have received the funds from your UK bank and that they have sent the funds to Spain and its eta...Normally a couple of days.
You can of course use this system for the currency of any country in the world.
| | |
| --- | --- |
| | For my sailing books and French canal guides please go to |
I am pleased to say this web site is

who have been kind, helpful and understanding. I really recommend them
Click here to purchase web hosting with HOST 100