French Canal Routes to the Mediterranean

Gentle Sailing Route to the Mediterranean

For books and French canal charts please go to
Routes Between the English Channel and the Mediterranean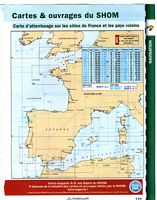 SN5 = South to North via Azores
- Best time May to September early October -
This is the sailing route with one tack off the Azores to try to lay the English Channel. It will be close hauled more or less all the way. With a fast boat and a few crew should be OK.
The total distance involved from Gibraltar to Falmouth is 2105 nautical miles - at an average of 5.5knots that's around 16 days.
The Azores are beautiful islands and it may be good to stop of for a while and explore before starting the 2nd leg to the English Channel.
From August onwards there is always the chance of the remains of some hurricane remains, ex USA, tracking over towards the UK and the English Channel and there can be some strong gales as well - off Ushant is no place to be in a westerly gale so it may be worth making all the west'ing you can during the 2nd leg..
Not too many people take this route but it is of course a very good alternative to lots of motoring - the important thing is to clear the prevailing northerlies off the Portuguese coast.
Have a look at my BISCAY LOG BOOK for some of my experiences whilst making the direct passage from North to South!
From the UK
SN1 = north to south - direct route by sea
SN2 = north to south via Canal du Midi
SN3= north to south via Le Havre - Paris - or Calais or St Valery
--------------------------------------------------
From the Mediterranean.
SN4 = south to north via Atlantic coast
SN5 = south to north via Azores
SN6 = south to north via Canal du Midi
SN7 = south to north via canals to Paris and Le Havre or Calais
Lorry option = a list of web sites of British and French haulage companies who specalise in boat transport.
VNF = Voies Navigables de France - details of license fees and canal offices - official paper
Canal du Midi = My log and some pictures of a recent transit. (SN7)
The Scenic Route = My log and some pictures of a recent transit. (SN6)
These web sites may be useful for the end of the canal system in the Mediterranean .
French Canal Routes to the Mediterranean

Gentle Sailing Route to the Mediterranean

For books and French canal charts please go to