St Valerie sur Somme to the Med
The following log is from a 2005 passage down the Canals of France from St Valerie Sur Somme on the English Channel between Dieppe and Boulogne
I decided to start the canals from St Valerie rather than Le Havre, as I had not done it by this route before. The passage from Le Havre to Rouen - Paris is fairly challenging and not that attractive. I have done that route several times and fancied something more rural......
June 6th Set sail for Dieppe early - started motor to cross shipping lane in lumpy sea.... Motor stopped and in spite of bleeding, threats, cleaning and several hours of attention on passage - refused to start again.
Got permission from Dieppe Port control to enter under sail (normally forbidden) - well reefed down on main and Genny with 25-30 knots and low visibility. Eloise went well to windward when I got too far West of the entrance and once I had sailed in past the Ferry terminal the marina boat towed me to a berth FOC... lots of fun.
June 7th discovered non starting motor is biotic sludge in bottom of fuel tank. Pump all the fuel out into jugs and remove several handfuls of jelly sludge. Thoroughly clean tank, filter fuel several times and refill tank. Around 22.30 I go into the cockpit and smell diesel - find tank is leaking and spend next two hours pumping diesel back out into jugs again - the fun of cruising......
June 8th Have bottom of tank welded in several places, change all the filters, clean lift pump etc etc - get lots of kind help and advice from Tim & Lynn the master of a beautiful Rampart called Maracas Bay.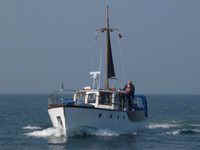 Tim is ex RNLI engineer and coxswain, pilot boat skipper, fisherman and knows small boats. He and Lynn are livaboards in Newport IOW.
June 10th Set sail for St Valery sur Somme,,,,,,,,,, Well, motored - very light Easterly on the nose. Found the channel entry buoy easily but the winding channel from one side of the bay to the other required my full attention. Very well buoyed and beaconed right up to the Yacht Club, the tide into the bay was making 3-4 knots and needed a concentration to stay in the fairly narrow and twisting channel for the 90 odd minutes it required.
Consult the pilot book for instructions on access times - not difficult but needs your full attention to time and the twists and turns. Never leave the buoyed channel.
June 12th Mast down at club crane for 30 Euro. Got help from Peter and Jackie in a very smart and tidy looking Westerly Discuss. Mast a bit too heavy to handle single handed - now stowed on deck...so was very grateful for their assistance.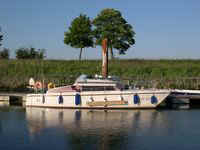 I must say all the employees of the club are friendly and helpful - Mariac, the young port manager, speaks perfect English and is charming. Sadly the club officials - Commodore and other 'flag' officers are pretty unfriendly and unwelcoming and prone to being slightly rude to visiting yachts people but their lack of good manners is made up for by their helpful and friendly employees. I think the club members prefer we do not use their bar or club facilities -
June 15th. Left Eloise with mast down ready to go into Canals and returned to London via home in La Rochelle - hope to be back in early July.........
as I left I noticed that the fuel tank was leaking again - not a lot but definitely leaking diesel - I am just going to pretend it is not as there is almost certainly not a welder in St Valery sur Somme - it is not the centre of the universe - but it is pretty with its steam trains and vast sand banks full of wildlife...
next stop the canals
The Scenic Route!
(breakdowns in Red!)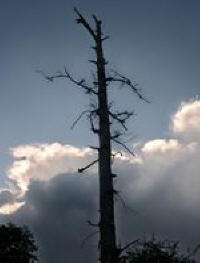 July 6th back on board. Fit Plastimo Electric Toilet to please 1st mate. Rain. Stock up with food from both excellent supermarkets. Rain
July 7th Rain fill 3 x 25ltr spare jugs of Diesel. (use club trolly) London bombings! Rain
July 8th. Rain Receive permission to move through 1st tidal lock into canal but no further as the rain has caused a tree to destroy a weir just past Abbeville! Now on pontoon in Canal du Somme.
July 9th Rain
July 10th Rain
July 11th Received permission to move 8K to Abbville. Great! Join half a dozen other boats waiting for repairs to weir to be finished. Large supermarket with fuel next door to mooring. Told we may be able to proceed tomorrow!
If you are thinking about using the French canals to passage between the UK and the Mediterranean then this booklet contains all the information you need.
It describes the Routes, the regulations the paperwork - How where and when to get the qualifications and license, the depths, air heights, locks and a whole lot more.
French Canal Routes to the Mediterranean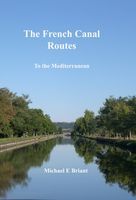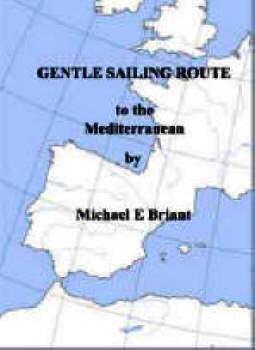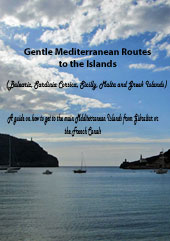 Gentle Sailing Route to the Mediterranean
Gentle Mediterranean Routes to the Islands
Caribbean Islands Cruising Guides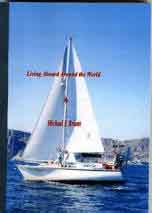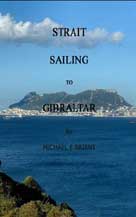 Living Aboard Around the World
For my sailing books and French canal guides please go to
Real Start of Trip
July 12th at 13.00 a lock keeper arrives and tells us we may proceed - get to Piquigny. - 27 nautical miles by GPS.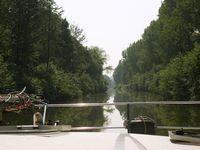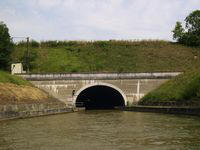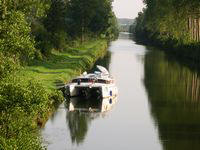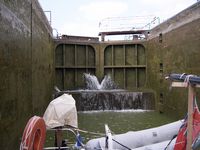 July 13th Piquigny to Mericourt - 25miles. - moored with stakes to the bank. OVERHEATED TWICE! WITH BLOCKED COOLING WATER FEED!
July 14th To Peronne - tightening fan belt!16 miles only as it is a public holiday and enter into THE CANAL DU NORD.
The Somme was a very quiet and domestic canal - verdant countryside, sometimes quite narrow and lined with trees. Charming and Friendly the canal company encourages pleasure craft and frequently the locks are open and ready for you before you arrive! The locks are manned mainly by students doing 'summer work' in the university break. - certainly a trip on the quiet side. (Quite strong cross currents before some of the locks.)
July 15th Canal du Nord is a major commercial highway for Penich - in 13 hours of motoring and 11 locks make Chauney. Plank was essential as several of the locks had shuttering rather than concrete and the fenders would have vanished into the gaps leaving the rubbing strake against the rusty metal, 1 long tunnel of a Kilometre and pretty narrow but well lit. (note the branch via HAM has been closed for years and will probably never reopen as it has silted up. At one stage there were 3 peniche in front of Eloise to go into a lock which only takes one at a time! I put in the long day to get out of the Canal du Nord and the Juggernaught Penich racing past any possible mooring night and day! Water flowing into locks pretty powerful and in one I just had to let go the line but a 4.80 + fenders catamaran in a 5 metre wide lock there is not far to go! Park up in Chauney knackered!
July 16th Unpark to go into Canal de l'Oise a l'Aisne and as I am turning around the engine stops. have enough way on to make the bank and moor up and open engine compartment. A short rubber hose connecting the plastic fuel feed line to lift pump has broken. - cut it off neatly put the shortened section back on - bleed the engine and nothing! Strip the lift pump which is pretty old, clean it up and reassemble it - bleed the system - nothing. look at the rubber hose and see it has broken again. Looks fine but is actually perished! A nice lady gives me a lift to a car shop where I buy new fuel hose, fit it bleed the engine and am on my way by 13.00! get to Anizy - 15 miles progress only....
July 17th make 27 miles progress and end up just north of Reims - locks are challenging as Eloise has a beam of 4.40mtrs + fenders and plank making around 4.60mtrs and the lock width of 5mtrs with cross currents just before the gates!
July 18th Total cock up going into lock with particularly strong cross current after rain! end up broadside to gates! 2nd attempt OK... ish. Fan belt slack again and water intake filter clogged. Parked in Reins port de Plaisance
July 19th Reins port de Plaisance - cost 11 Euros a night inclusive of electricity and water. Did lots of shopping etc. social visit from brother in law. Not easy place for fuel or gas. Good supermarkets and town shops. Departed 14.00
July 20th Locks difficult as depth of canal has been increased to hold 'fuller' barges but the sides of lock have not been raised! The top of the side is only a couple of inches from top of water when lock is full. Fenders float so it is very difficult to protect hull. some boats have strips of 2x1 on ropes suspended at water level. Seems to work well.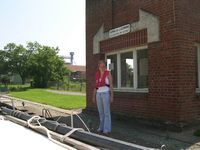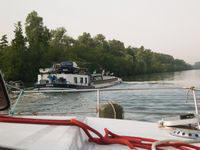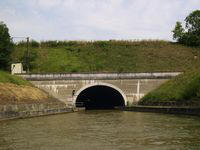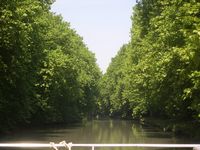 Lock keeper Passing Peniche 1K tunnel entrance Narrow canal
July 21st Travelled with nice older couple in steel 'Pedro' canal boat. Tightened fan belt again.
July 22nd Some very narrow canals. Got forced into bank by Peniche waiting to enter lock I was leaveing. He occupied all mid stream and went ahead the moment I left the lock. Result I went aground as he 'sucked' all the water out of the side of the canal - my stern swung around and we scraped the inflated dinghy hanging off the davits as fender down the side of the Peniche. A few hours later at another lock the same situation as a Peniche waiting to enter as I exited made me pull further over to a space on the right and I went hard aground with both hulls!! In neither case was there any damage to Eloise. A bit of damage to my good humor! Throttle cable (morse cable) broke - Throttle bodged with string from throttle leaver round little block and into cockpit - works fine!
July 23rd Overheating.... Install new impeller - I think the problems of the impeller running dry when the water intake is blocked by debris damages the rubber - Canals start to get wider. Great!
July 24th Water intake blocked again - clear it. String throttle works just fine!
July 25th Arrive Chaudrey midday. Fuel up and food up in local supermarket. Chaudrey Port de Plaisance with electricity and water for 7 euro a night! Fuel has to be jerry jugged. Not ideal but supermarket excellent. Order new morse cable from Ted Johnnson in France for overnight delivery by French Parcel Post service. Buy high stool to sit on whilst driving!
July 26th Morse cable arrives 09.00 and spend happy morning fitting it. Fill up with water but have to wait for 13.30 lock to set out.
July 27th Go through very long 4 kilometer tunnel. Diesel return pipe falls off - fix with string. It too is perished but looks fine externally!
July 28th Did long 11 hour day 08.00 to 19.00 and make good progress towards the Saone
July 29th Break out into big wide Soane River and huge easy locks at at 14.15.
July 30th Arrive Chalon Sur Soane - have expensive and delicious dinner but older lady at next table almost dies! 362 miles down the road so far.
July 31st Heading down stream - Fan belt finally gives up ghost. Park in disused lock and put on new belt. Get to Belleville sur Saone 408 miles on GPS best day for distance achieved so far - 46 miles! (I should be sailing!!)
August 2nd Departed 08.00 and purchased Fuel from the Riverside Barge past last bridge. Big Locks really easy with floating bollards.
August 1st LYON! parked under willows near city centre.
August 2nd Departed 08.00 and purchased Fuel from the Riverside Barge past last bridge. Big Locks really easy with floating bollards.
French Canal Routes to the Mediterranean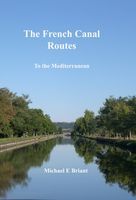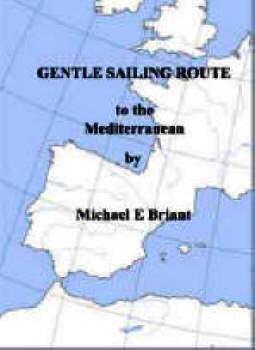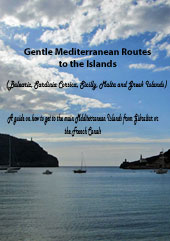 Gentle Sailing Route to the Mediterranean
Gentle Mediterranean Routes to the Islands
Caribbean Islands Cruising Guides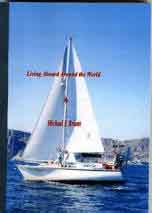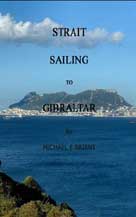 Living Aboard Around the World
August 3rd La Roche de Glenn. Alongside village pontoon for night with 4 other boats
August 4th La Roche de Glenn Mistral blowing and gusting 30 Knots - decide not to move - engine not powerful enough but see others pass....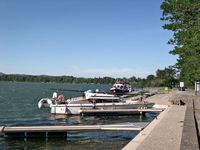 August 5th Big problems finding a parking place at end of day. tied up alongside very unwelcoming little stinkpot occupying all of village pontoon..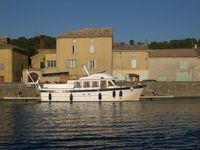 horrid old French lady, husband and daughter in this Trader were most unwelcoming!!!
August 6th made it out of Rhone into Petit Rhone - via maritime lock into Canal de Rhone a Sete. Stopped at Galacian.
note: would have been about 1 day more to Port St Louis.
August 7th waited from mid-day to 16.30 for bridge to open then into Etang du Thau and into SETE. Parked outside external bridge on Etang de Thau Junction. Smashing little local restaurant with all items priced at 3 or 4 Euro. Local folks come from miles around! Best meal of trip and for the least money! If we were going into Med then would have put the mast up here!
Over view
This route is longer than the Le Havre - Sete or Port St Louis route by at least a week - possibly more. Not the route to follow if you are in a hurry. On the plus side it is a far more rural and interesting trip. Once you get to the Saone you will probably have had enough of small canals and locks. I certainly found getting a 4.40metre beam cat + the fenders into 5metre wide locks quite challenging. the biggest problem being the cross current that lurks just before the entry gates caused by the overflow of water from the canal above the exit gates! You can see it in the water as you approach and try to make an allowance for it but it is difficult to judge its strength as it varies with every lock. Having said that I managed very fairly well with using the Sillette leg on the Prout which enabled me to get it right 95% of the time! The 5% failure rate was fairly spectacular resulting in one 180 degree just in front of the gates of one lock followed by the problems of turning again to make a 2nd approach only to find the radar had 'detected' one of my bows and the lock thought I was already in - needed an eclusier to arrive and sort out the lock. (same problems would have existed on Le Havre route)
On arrival with some relief at the Saone and the bigger locks the river takes on large proportions. Frankly it becomes a little boring with endless wide reaches lined by trees with almost no variation and few stopping places till the next town is reached.
Lyon is a milestone and a city I like very much - having refuelled economically at the barge you enter the giant locks of the Rhone. Magnificent river - only problem is finding a stopping place for the night before it get dark.
The ones I know about are listed here: