Sea and Canal Routes to Med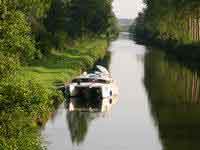 Welcome to my main page on the Canals and Rivers of France
As you can see there many different sections on the canals. If you are interested in boats and circumnavigating the world there are lots of pages you can access above the red title.
The following links are the routes between the UK - English Channel and the Mediterranean.
This page covers the different routes you can take between the UK and the Mediterranean. There are links from here to detailed information on The Canal du Midi and The Scenic Route as well using a the Lorry Option to transport your boat or just the mast.
The Rhone River Parking Places lists all the know overnight stopping places which are few and far between. Eloise Diary is the daily log of my trip last year from the UK to the Med then back up the Canal du Midi to my home in La Rochelle
If you have little up to date knowledge of the canals and rivers between northern Europe and the Mediterranean, I have published a book which should give you all the information you need in order to get the correct French recognised qualifications and licences to take the boat into the inland waterways of France. It also lists the main routes with details of distance, timing and the appropriate inland waterway chart books - Fluviacarte book charts of the canals that you will require.
It is just possible, but only just, to do the voyage with my book and Fluviacarte #21,
Routes Between the English Channel and the Mediterranean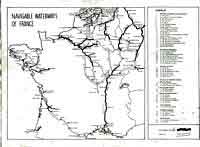 Click here for Canals Chart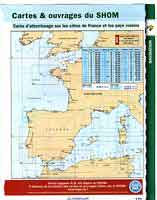 Click here for Atlantic chart
There are only 3 basic routes north-south between the UK and the Mediterranean and all have attractions -
From the Mediterranean to the English channel there are 4 routes and 2 of them are very hard work and somewhat tedious.
This is not a pilot book, rather a passage plan and guide to the nicer places between the South Coast of the UK to the beautiful Mediterranean Sea. It can all be done in easy stages, to suit a lightly crewed boat, with perhaps only a couple of people on board who are without 'offshore' experience. Actually, it is a lovely way to explore a lot of delightful foreign places.
The sales of this book almost equal that of French Canal Routes. Over 2000 copies sold....
From the UK
SN1 = north to south - direct route by sea
SN2 = north to south via Canal du Midi
SN3= north to south via Le Havre - Paris - or Calais or St Valery
The Brittany Canals - short cut around Ushant
--------------------------------------------------
From the Mediterranean.
SN4 = south to north via Atlantic coast
SN5 = south to north via Azores
SN6 = south to north via Canal du Midi
SN7 = south to north via canals to Paris and Le Havre, Calais, St Valery sur Somme.
Lorry option = A list of web sites of British and French haulage companies who specialise in boat transport.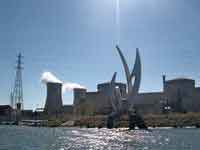 Parking Places in the Rhone = A list of the relatively few possibilities to overnight in the Rhone.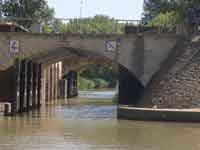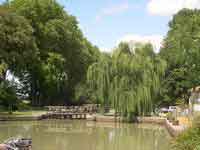 Canal du Midi = My log and some pictures of a recent transit. (SN7)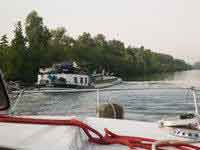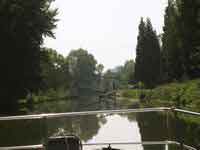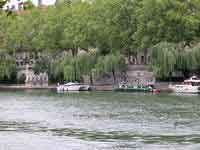 The Scenic Route = My log and some pictures of a recent transit from St Valery sur Somme on the English Channel to Sete in the Mediterranean. (SN6)
BASIC CANAL INFORMATION FOR MAIN ROUTE
MAIN CANALS VIA CALAIS OR LE HAVRE - SETE OR PORT ST LOUIS
Draft = 1.8 metres - 5ft 9inchs.
Beam = 5 metres - 16ft 4inches.
Height = 3.5 metres - 11ft 4 inches.
CANAL DU MIDI.
Draft - 1.6 metres (5ft 2 inches) MAX! Less in high summer -
Width 5.5 metres - (18ft.)
Height 3 metres but be warned that the height of 3m is to the centre of the bridge arches - the sides may be as low as 2metres (6ft 5inches)
The length of the locks is 30metres (98ft 4inches)
The 'Classic' route (SN3) is in at Le Havre (excellent crane facilities) enjoy Paris - motoring through the 'city' in a boat is un-missable - then the Canal sur Briare, Canal lateral a la Loir, Canal du centre into the Soane then the Rhone.... This route is a little longer but has fewer locks so is quicker - I have done it in two weeks coast to coast but you should take much longer as it is lovely.
You will have to buy a boat license for the time spent in the river/canal system -
This is priced by the square metre of the boat LOA x BEAM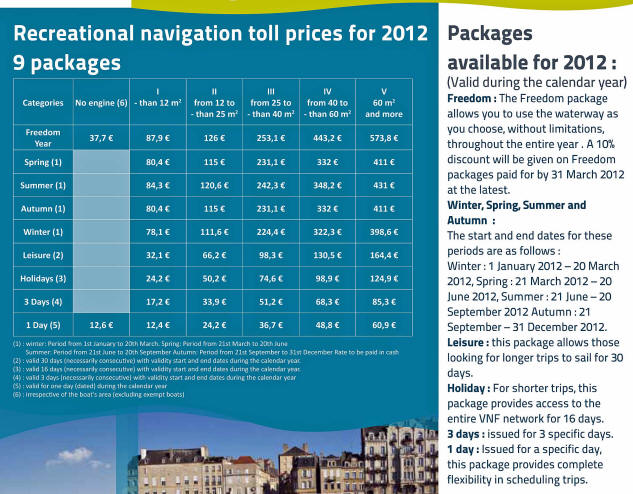 There is an Annual 'FREEDOM card
a 4 months card
one month card
and the daily card.
Or can be purchased on line, in English from the VNF web site http://www.vnf.fr .
Check on the official web site http://www.vnf.fr for info on closures works and all information - the French site works better than the English.
DOCUMENTS REQUIRED
Under European (and of course French) law anyone operating a boat on the European canal system is required to have a 'boat driving license' as issued by their own country of origin. This license must cover inland waterways and be endorsed for European canals -
You can travel in any European river or canal with the license issued by your own authority that certifies you know how to control you boat - preferably with a motoring endorsement but you still need the European waterways endorsement/knowledge certificate - Test of signs, rules, lights, buoying etc
In order to use the French, Belgium & Netherlands inland waterways legally in your boat you need two bits of official paper.
1) ICC International Certificate of Competence - shows you know how to control your boat... (or as issued by your home country)
2) CEVNI - endorsement (Inland waterways) Shows you know the meaning of the signs and rules on the inland waterways


There is an excellent web site created by a retired 747 pilot which provides 'flip cards' and all the info you need to know before taking the CEVNI exam


The RYA are helpful in this area http://www.rya.org.uk and are worth a visit.
ICC qualification is available to BRITISH CITIZENS or bona fide BRITISH RESIDENTS.
There are 2 ways to obtain an ICC:
1. By completing the ICC application form and attaching a photocopy of your Practical certificate at Powerboat Level 2, Day Skipper or above. Consult the list of certificates eligible for conversion on the back of the ICC application form which is available from the RYA or the RYA by email.
2. By taking a practical test at a RYA Training Centre or a RYA Affiliated Club authorised to carry out ICC tests. The test lasts approximately half a day and can be taken on your own boat or one provided by a school or club. The test includes; questions on safety, collision avoidance and for coastal waters; navigation and piloting. In order to operate a sail boat or sailing yacht you will need to approach a Sail Cruising School . Motor Boaters need a Motor Boat School - its going to cost around £250 minimum!
If you are intending to take a boat through the European Inland Waterways system, i.e. canals, rivers, lakes etc. applicants must also have passed a written multiple choice test called the CEVNI (European Inland Waterways Regulations) at an RYA Training Centre or RYA Affiliated Club authorised to carry out tests. The CEVNI test is a multiple choice paper of 14 questions. The pass mark is 11 and usually takes about 10 minutes.
For non British people if you have a certificate of competence to run your boat - USA Captains ticket etc it will be acceptable to the authorities. You will still need the CEVNI test - any nationality can get that at one of the UK training schools who seem to charge around £15-£25 for the 10 minute test! There is a French test and paper and it comprises of the CEVNI plus a 1/2 hour practical - need to use a school motorboat.. lot of hassel - all in French and will cost around £250. Alternatively if you have access to a British address you could use that for your RYA application...
If you are heading from the MED - TO THE ENGLISH CHANNEL OR BORDEAUX and are not European I would just chance it - wave whatever qualification you have written in your own language and express keenness to help! They do ask to see the boat license fee disc at locks - you must get that at least. Recently the French authorities in some of the offices (Particularly the Paris office) have started to ask to see your Certificate of Competence for inland waterways or your CEVNI before issuing the the boats canal license -
VNF = Voies Navigables de France - details of license fees and canal offices - official paper
in France Ted Johnson who lives and works in France can get spares to you overnight... and by the inexpensive French Postal Service (really does work - next day delivery)
You can contact Ted at Marine Diesel
Chitry-les-Mines
58800 Corbigny
Tél : (+33) 03.86.20.14.80
Fax : (+33) 03.86.20.14.84
contact@marine-diesel.fr
------------------------------------------------
This site has a series of tests for the written part of the CEVNI certificate
http://www.sailtrain.co.uk/cevni/images/cevni1.htm
find out if you know the rules!
Probably the best site for learning boating things on the net!
--------------------------------------------------------
These web sites may be useful
(Marina at med end of the system)
http://guidemediterranee.free.fr/article.php3?id_article=0301
(web guide to the ports and harbour in the area around the canal entrances in the med)
I am pleased to say this web site is

who have been kind, helpful and understanding. I really recommend them